Our Review of Goofy's Kitchen in Disneyland
Last Updated on August 22, 2023 by
If you're planning a trip to Disneyland in California, you'll definitely want to add a character dining experience to your itinerary. Goofy's Kitchen, located in the Disneyland Hotel, features a full buffet and lots of character visits during your meal. We recently dined at Goofy's Kitchen, and we're sharing our full review of our experience! We'll share our favorite menu items, how to get reservations, which characters we saw, and more.
To see all our posts about California, click here!
Disclosure: This post may contain affiliate links. As an Amazon Associate, I may earn commissions from qualifying purchases from Amazon.com. These sales help to run this blog without any additional cost to you. See our policy page for details.
---
 
About Goofy's Kitchen
Goofy's Kitchen opened in 1992, and it's been one of the most popular dining experiences at Disneyland. The restaurant is located inside the Disneyland Hotel, which you can access through the Downtown Disney District. You do not need to be a guest of the Disneyland Hotel to make reservations at Goofy's Kitchen.
Your reservation at Goofy's Kitchen includes complimentary 3-hour self-parking at the Disneyland Hotel self-parking lot.
This table-service restaurant has a full buffet. Goofy's Kitchen is open for either a breakfast buffet or a dinner buffet.
If you're celebrating a special occasion, be sure to let the staff know when you check-in for your table.
Tip: When you purchase Disneyland tickets through Undercover Tourist, an authorized ticket seller, you can save money on your park tickets! For example, you can save money on 4-Day Disneyland Resort Park Hopper tickets!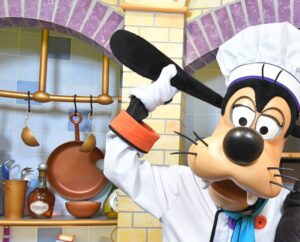 Tip: Because Goofy's Kitchen is located outside the theme parks, you can make reservations without a theme park ticket. This makes Goofy's Kitchen a great place to dine on the bookends of your trip. That way, you won't have to take time out of your theme parks days to have the experience at Goofy's Kitchen. We recommend visiting Goofy's Kitchen after your last day at Disneyland. It's one final opportunity to have a Disney experience before you head home!
How to Make a Reservation at Goofy's Kitchen
Reservations can be made up to 60 days in advance of your visit. To make a reservation for Goofy's Kitchen, sign into your Disneyland app. We recommend that you look for reservations as soon as they are made available, because tables do sell out!
If you're not able to make a reservation for Goofy's Kitchen, don't give up yet! We recommend checking back daily the week before your trip. Sometimes there are last-minute cancelations to Goofy's Kitchen, and you might just score a reservation! We were able to get a reservation to Goofy's Kitchen fairly last-minute by using that method. (This is also how we were able to make last-minute reservations to the Bibbidi Bobbidi Boutique!)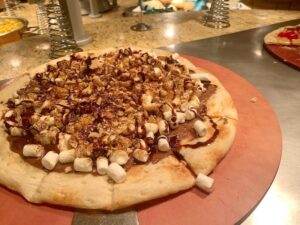 ---
Character Dining at Goofy's Kitchen
One of the best parts about dining at Goofy's Kitchen is the fact that there's lots of characters. When we first checked-in at the front desk, they brought us to a short line to take a photo with Goofy cooking in his kitchen.
Once we were seated at our table, several characters paraded through the restaurant intermittently. These included Minnie Mouse, Donald, Pluto, Chip and Dale, and more. The characters made their way through several times during our visit, so we didn't miss any of them. There was always a musical announcement to trigger the characters' arrival, and the staff would ask us to swirl our napkins above our heads. Kids loved it!
The characters spent lots of time interacting with us. Instead of just walking by all the tables, they stopped at each individual table for photos. When Minnie Mouse visited our table, she even stopped to play with one of our stuffed animals. When Chip and Dale stopped by our table, they played peek-a-boo behind the booth. Our family had a really fun time!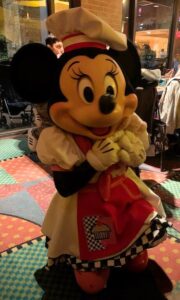 ---
The Menu at Goofy's Kitchen
We visited Goofy's Kitchen for the dinner buffet.
We were really impressed with the huge selection. There was a lot of variety in the menu, with lots of healthy options, kid-friendly options, and comfort food classics. There were many food stations at Goofy's Kitchen, including a carving station, catch-of-the-day station, pizza station, and more.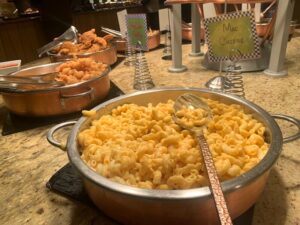 We recommend that you save room for dessert! The dessert buffet was our favorite part about dining at Goofy's Kitchen. There were more desserts than I could count! There were dessert pizzas, soft-serve ice cream with all the toppings, donuts, crème brulée, cakes, pastries, jello, and more. One menu item you definitely have to try is Goofy's Famous Peanut Butter Pizza. The pizza has peanut butter and jelly on top of it, and it's super delicious! (Kids will also get a kick out of it!)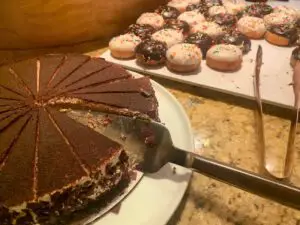 If you're planning to visit Goofy's Kitchen for breakfast, you'll find the Disney-famous Mickey Mouse Waffles, pancakes, sausages, eggs benedict, and more. (Note: Goofy's Famous Peanut Butter Pizza is served at breakfast too!)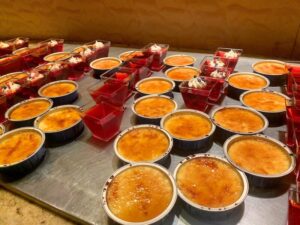 Tip: If you're not staying on Disney property, we recommend staying at the Best Western Plus Park Place Inn & Mini Suites. We stayed there during our last visit to Disneyland, and we really appreciated that it was right across the street from the resort!
---
Pricing for Goofy's Kitchen
When we visited Goofy's Kitchen, dinner prices ranged from $35 to $59.99 for an adult. 
Character dining experiences are, in general, a bit more expensive. However, we found that overall it was a good value given the food selection and entertainment. 
Those Disney memories are just priceless!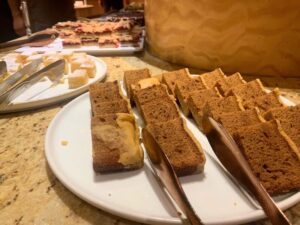 Tip: Be sure to bring a portable cell phone charger so that your phone doesn't run out of battery. You'll be using your phone a lot for the Disneyland app and photos, so make sure it's fully charged.
---
Summary: Our Experience at Goofy's Kitchen
We think it's definitely worth making reservations at Goofy's Kitchen when planning a vacation to Disneyland. To make the most out of your trip, we recommend booking reservations for a day when you're not planning to be at the parks. (This could work well on the day of your arrival or the day before you leave.)
We recommend that you arrive hungry and that you take your time to enjoy the experience. You don't want to rush your meal at Goofy's Kitchen.
We hope this review helps you to plan your own trip to Disneyland!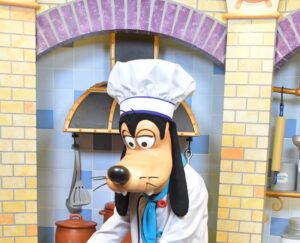 You might be interested in the following Disney posts:
Disneyland in California
Walt Disney World
Disneyland Paris
Disclaimer: We always strive for content accuracy. Since the time of publishing, travel-related information regarding pricing, schedules, and hours may have changed. Please look up such information directly from each vendor or institution for the most current information.