23 Things to Do in Palm Springs, California (Full Visit Guide!)
Last Updated on August 22, 2023 by
Palm Springs is one of my favorite destinations in California. The city is known for its trendy restaurants, quaint downtown, golf courses, and sunny weather. Palm Springs has been a getaway for numerous Hollywood celebrities over the years. Elvis Presley, Goldie Hawn, and Leonardo DiCaprio have all owned homes in Palm Springs. Palm Springs is ideally located at the base of the San Jacinto Mountains. I've been to Palm Springs numerous times, and today I'm sharing the top 23 things to do in Palm Springs, California. I'll also be including recommendations for hotels, restaurants, and more!
To see all our posts about California, click here!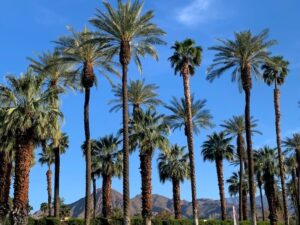 Disclosure: This post may contain affiliate links. As an Amazon Associate, I may earn commissions from qualifying purchases from Amazon.com. These sales help to run this blog without any additional cost to you. See our policy page for details.
---
Map of the Best Things to Do in Palm Springs
---
23 Things to Do in Palm Springs, California
1. Palm Springs Aerial Tramway
Address: 1 Tramway Rd, Palm Springs, CA 92262
One of the best things to do in Palm Springs is to visit the Palm Springs Aerial Tramway. The tram will take you to the top of the San Jacinto Mountains, where you'll have an encompassing view of Palm Springs and the Palm Desert below you.
The Palm Springs Aerial Tramway has the world's largest rotating tram cars. Each tram car will slowly rotate as you ascend the mountain, so you'll have 360-degree views of the entire experience no matter where you're standing on the tram. The ride to the top is approximately 10 minutes, and you'll travel over Chino Canyon before arriving in Mount San Jacinto State Park. When you arrive to the top, you'll be at 8,516 feet above the valley.
At the mountain station, there are plenty of things to do. There are two restaurants at the top of the mountain: Pines Café (cafeteria-style dining) and Peaks Restaurant (fine dining with reservations recommended). There's also several observation decks, a natural history museum, and numerous hiking trails.
I first rode the Palm Springs tram when I was a teenager. The ride to the top was a unique experience that has stuck with me, and the views from the top were out of this world. I was surprised by how cold it was at the top of the mountains compared to the valley below. I recommend that you pack lots of extra layers, even if it's a hot day in Palm Springs!
I recommend purchasing tickets to the Palm Springs Aerial Tramway in advance of your visit, because they do sell out. You can purchase tickets through their website listed above, or through Viator's website.
2. Living Desert Zoo and Gardens
Address: 47900 Portola Ave, Palm Desert, CA 92260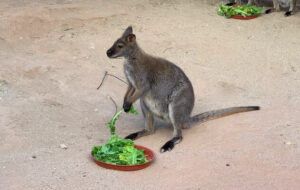 The Living Desert Zoo and Gardens was a highlight of our last visit to Palm Springs. I have visited the zoo on several occasions, but it was definitely extra-fun getting to take my own young family there. I really like the Living Desert Zoo because of its beautiful landscape and interesting exhibits.
There are plenty of animal enclosures, including leopards, giraffes, rhinos, bobcats, cheetahs, and more. We especially liked the Wallaby Exhibit, because the zoo allows visitors to enter the enclosure. We were able to walk around the path as wallabies hopped all around us! In addition to seeing the animals at the zoo, you can also participate in unique experiences like the Giraffe Feeding or the Rhino Encounter.
The Living Desert Zoo is dedicated to conservation and funds numerous field projects.
The zoo is also home to a number of events. This year we attended the Living Desert Zoo's Glow in the Park event. (This event typically occurs in April.) We were able to visit the zoo in the evening and see hundreds of light-up displays. It was a highlight of our trip to Palm Springs!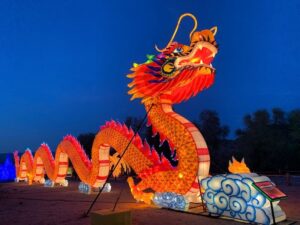 3. Palm Springs Art Museum
Address: 101 N Museum Dr, Palm Springs, CA 92262
The Palm Springs Art Museum was founded in 1938. Today, the museum features 28 galleries, two sculptural gardens, and a theater.
In addition to the primary museum, you should also check out the Architecture and Design Center, Edwards Harris Pavilion. The design center focuses on the classic architecture that has made Palm Springs famous. You can also visit the Faye Sarkowsky Sculpture Garden, which contains 14 outdoor sculptures.
4. Tahquitz Canyon
Address: 500 W Mesquite Ave, Palm Springs, CA 92264
The Tahquitz Canyon is a beautiful outdoor recreational area that contains a seasonal 60-foot waterfall. The canyon is part of the ancestral home of the Agua Caliente Band of Cahuilla Indians.
There is a price of admission to enter the canyon, and minors must be accompanied by an adult. No dogs are allowed into the canyon. There are ranger-led interpretive hikes that leave from the Tahquitz Canyon Visitor Center.
The hike to Tahquitz Canyon from the Visitor Center is 1.8 miles with 350 feet of elevation gain. There are no restroom facilities or water fountains on the trail, so be sure to pack enough water for your hike. (See our post about the 10 Essential Hiking Items you should bring with you anytime you go hiking.) Once you reach the end of the trail, you'll see Tahquitz Falls. The full loop trail takes about an hour to hike.
5. Visit Downtown Palm Springs
Address: Palm Canyon Drive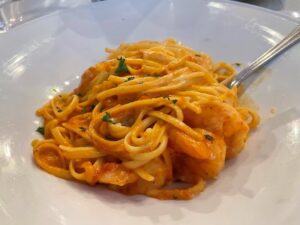 The primary avenue in downtown Palm Springs is Palm Canyon Drive. Palm Canyon Drive contains numerous restaurants, shops, and hotels. Some restaurants that I recommend on Palm Canyon Drive are Las Casuelas Terraza and Lulu California Bistro. I've eaten at both restaurants before, and they both had amazing food. (You also can't beat their location!) My aunt frequently travels to Palm Springs and her favorite shop downtown is Brandini Toffee. Their toffee candies and milkshakes are delicious!
7. VillageFest Street Fair
Address: Palm Canyon Drive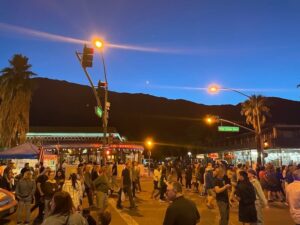 On most Thursday evenings, there's a night-time street fair called VillageFest along Palm Canyon Drive. There's tons of live music, food booths, art booths, and local craft booths. I've attended VillageFest multiple times over the years, and it's always one of my favorite parts of visiting Palm Springs. The evening temperatures are typically perfect, and it's so fun to walk through all the booths. During our last visit to VillageFest, we ate homemade cookies, danced in the streets, and browsed some incredible art work.
8. Palm Springs Air Museum
Address: 745 N Gene Autry Trail, Palm Springs, CA 92262
The Palm Springs Air Museum is another must-see attraction in Palm Springs. The air-conditioned hangars contain aircraft ranging from World War II to the War on Terror. The exhibits are interactive, and the aircraft are not roped off from the public. There's the Pacific (Navy) Hangar, European (Army) Hangar, B-17 Hangar, Korea & Vietnam Hangar, and the F-117A Hangar.
9. Cabazon Dinosaurs
Address: 50770 Seminole Dr, Cabazon, CA 92230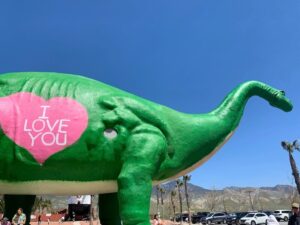 The Cabazon Dinosaurs are located about 20 miles from Palm Springs. This roadside attraction has numerous large-scale dinosaurs. The dinosaurs have been featured in movies and have a following in pop culture.
The Cabazon Dinosaurs has over 70 dinosaurs. There are two large dinosaurs ("Dinny" and "Mr. Rex") that are located outside the main entrance. You're welcome to stop and take photos with these dinosaurs without paying an admission fee. If you'd like to go into the park, you'll need to purchase tickets. You won't purchase tickets at any regular ticket stand, though. Instead, you'll actually climb into Dinny the Dinosaur. There's an entire gift stop and ticket stand inside the dinosaur's belly!
Within the Cabazon Dinosaurs attraction, there's a dinosaur walk, gift shop, and fossil dig. (There weren't any shovels for the dinosaur dig, though, so it might be helpful to bring a plastic one from home.)
We spent about an hour at the Cabazon Dinosaurs attraction. If you have young children, I think it's worth the cost. Our young daughter loves dinosaurs, so she was really excited about the dinosaur walk. She especially liked finding the "dinosaur tracks" on the paved path. If you're not a big dinosaur fan, you might enjoy the dinosaurs outside the attraction without entering.
Tip: If you're hungry after visiting the Cabazon Dinosaurs, there's an In-N-Out burger restaurant just 5 minutes away!
10. Palm Springs Wind Farm
Address: 62950 20th Ave, Palm Springs, CA 92262
If you find yourself driving around Palm Springs, you'll definitely notice the hundreds of wind turbines in the desert. These wind turbines provide energy resources for much of Palm Springs. If you're interested in learning more about wind energy and the history of the wind farm, you can take a 1.5-hour bus tour at the Palm Springs Wind Farm. You can also purchase your own self-driving tour and visit the wind farm in your own vehicle. You'll download an app that will teach you more about the wind farm.
11. Go to the Spa
There are several noteworthy spas in the Palm Springs area if you're looking to indulge in some self-care. The Well Spa at Miramonte Resort has an excellent spa menu, as well as three outdoor lounging spaces that include hot and cold soaking pools. There's also an enticing eucalyptus-infused steam rooms. Another excellent spa options is the Spa at Desert Springs. This 38,000 square foot building is home to a number of saunas, steam rooms, and pools. What's nice about this spa is that there are lounge spaces that are both co-ed and separated by gender. The Spa at Sec-he features hot mineral springs that you can enjoy in private baths. Finally, Two Bunch Palms Resort and Spa is an oasis in the desert with its own natural mineral spring.
12. San Andreas Fault
The San Andreas Fault is X. You can experience the San Andreas Fault easily from Palm Springs by booking a Jeep Tour. On the tour you'll drive through canyons, learn about California's geology, and learn more about the Cahuilla Tribe.
13. Spend the Day at the Pool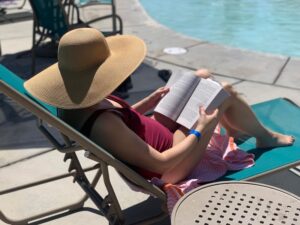 One of my favorite things to do in Palm Springs is spend a day at the swimming pool. I highly recommend that you choose a hotel that has a good swimming pool. With the desert heat, chances are that you will be a the pool a lot! I especially loved the swimming pools (and lazy river!) at WorldMark Indio Resort. If you don't have a hotel with a nice pool, you can also purchase a day pass to a good pool. We recommend visiting the Spa at Desert Springs because they have a gorgeous outdoor swimming pool. The Hyatt Regency Indian Wells Resort & Spa also has an excellent swimming pool with two large waterslides. If you're looking for a mid-century pink feel, visit the Trixie Motel.
14. Walk of the Stars
Address: 10 N Palm Canyon Dr, Palm Springs, CA 92262
Many of Hollywood's elite have visited Palm Springs to relax and play. To honor these celebrities, there's a sidewalk in downtown Palm Springs called the Walk of the Stars that has over 400 stars. In addition to entertainment celebrities, there are also stars for famous politicians and veterans. Each of the people with a star have lived in the greater Palm Springs area.
15. Moorten Botanical Garden
Address: 1701 S Palm Canyon Dr, Palm Springs, CA 92264
The Moorten Botanical Garden is a privately-owned arboretum that currently serves as a botanical garden and wedding venue. The Cactarium at Moorten's hosts numerous varieties of cacti. For a small admission fee ($5 for an adult), you can stroll through the numerous biomes.
16. Marilyn Monroe Statue
Address: Museum Wy, Palm Springs, CA 92262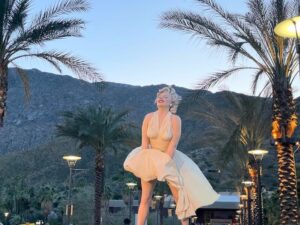 If you visit downtown Palm Springs, you can't miss the giant statue of Marilyn Monroe, which is titled Forever Marilyn. The statue is 26 feet tall and was created by Seward Johnson. It makes for a unique photo opportunity!
17. Sunnylands Center & Gardens
Address: 37977 Bob Hope Dr, Rancho Mirage, CA 92270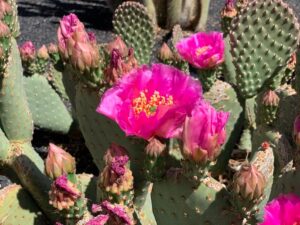 Another one of our favorite things to do when visiting Palm Springs is to drive to Rancho Mirage to visit the Sunnylands Center & Gardens. The gardens are open Wednesday through Sunday, and admission is free. When you arrive at Sunnylands, you'll see a large, contemporary glass building. Inside, you'll learn all about the history of Sunnylands. Immediately outside the main building, there's a cafe and a large grassy area. (Our daughter loved racing around the field!) The grassy area is surrounded by a circular path with several unique gardens shooting off from the path. I especially enjoyed the reflection pool, cactus garden, and walking meditation labyrinth.
If you're interested in learning more about the gardens, there are paid tours in which you can see a historic estate, go birding, or have an open-air motor tour of the gardens.
18. Golfing in Palm Springs
Palm Springs is famous for its renowned golf courses. We recommend that you take the weather into consideration to avoid playing during extreme desert heat. Some of the most notable public golf courses in Palm Springs are: Indian Canyons Golf Resort, The Westin Rancho Mirage Golf Resort & Spa, and SilverRock Resort.
19. Visit the Casino
There are several casinos that are located in Palm Springs and its surrounding cities. One of the most popular casinos is located in nearby Rancho Mirage: The Agua Caliente Resort Casino Spa at Rancho Mirage. The AAA Four Diamond Resort has a casino, beautiful swimming pools, and an award-winning spa.
20. Palm Springs Drag Show
Address: 1800 E Palm Canyon Dr, Palm Springs, CA 92264
One of the most popular shows in Palm Springs is the Palm Springs Drag Brunch. The show takes place Saturdays and Sundays at the Saguaro Hotel. Admission includes a 3-course brunch and, depending on which ticket you choose, bottomless Mimosas.
21. Observatory at Rancho Mirage Library
Address: 71-100 CA-111, Rancho Mirage, CA 92270
In the nearby town of Rancho Mirage, you can go stargazing when you visit the Rancho Mirage Library. The desert is the perfect place to view the stars! The observatory at the library hosts public stargazing events, so it's something you should definitely add to your list while in Palm Springs.
22. Take a Covered Wagon to a BBQ
If you'd like a taste of the Wild West, you can travel via a covered wagon to a western BBQ. The mule-drawn covered wagon will take you through the Sonoran Desert. Along the way, you'll learn all about the history and geography of the area. At the ranch, you'll enjoy a full BBQ menu, music, yard games, campfires, and more.
23. Head to Joshua Tree National Park
Joshua Tree National Park is only 47 miles east of Palm Springs. Joshua Tree National Park contains two different deserts: The Mojave Desert and the Colorado Desert. The park is filled with Joshua Trees, which are spiky trees that are part of the agave family. The park is quite large at nearly 800,000 acres. If you want a tour of the park, you can check out the open-air Hummer tour of Joshua Tree National Park. You'll have the advantage of traveling with a local expert!There are plenty of hikes that will keep you busy for a day or two!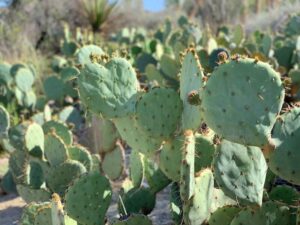 ---
Hotels in Palm Springs
Hotels We've Stayed at in Palm Springs:
During our visits to Palm Springs, we've personally stayed at the WorldMark Indio and the WorldMark Palm Springs. The WorldMark Indio is a little further out of Palm Springs, but we think this resort is the perfect place to stay. There are multiple swimming pools, a lazy river, and water features that makes this resort feel like an oasis. If you want to be in the downtown area, though, the WorldMark Palm Springs is also a great place to stay! We wrote all about our most recent stay at the WorldMark Indio, so be sure to check it out for lots of photos and our full review!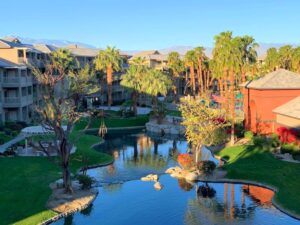 Other Hotels to Consider in Palm Springs:
The Saguaro Palm Springs: The bright and colorful rooms at The Saguaro are the perfect place to stay. With a pool, spa, and dining on-site, you can relax all day!
ARRIVE Palm Springs: This adults-only hotel has plenty of common areas for socializing, games, and more.
Hilton Palm Springs: The Hilton property has a large outdoor pool with plenty of lounge chairs. The Hilton also has a free shuttle that takes guests to and from Palm Springs International Airport.
---
Packing List for Palm Springs
When you're packing for a trip to Palm Springs, the primary consideration you'll want to take into account is the weather. The desert heat can be intense, and it will also be cooler in the evenings. We recommend the following:
Light Clothing: Dress in light, breathable fabrics. Fabrics that have UV protection are a bonus!
Comfortable Shoes: When visiting Palm Springs, I prefer to wear comfortable sandals. For an evening out, I like to wear a wedge shoe.
Sun Hat: Protect your face with a hat while you lounge at the pool or stroll around town.
Water Bottle: Stay hydrated while you're in Palm Springs by carrying a water bottle everywhere you go. We have the water bottle linked below, and it keeps our water nice and cool!
Sun Glasses: Protect your eyes with a cute pair of sun glasses.
Portable Charger: Make sure that your phone stays charged on-the-go with a portable charger.
Click on any of the above images for current shipping and pricing information.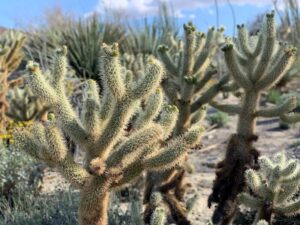 ---
Summary: The Best Things to Do in Palm Springs
I've been fortunate to visit Palm Springs on numerous occasions, and my favorite things to do in Palm Springs are: ride the Palm Springs Aerial Tramway, visit the Living Desert Zoo and Gardens, walk around Sunnylands Center and Gardens, and spend the day at the swimming pool. I hope this guide helps you to plan your own trip to Palm Springs!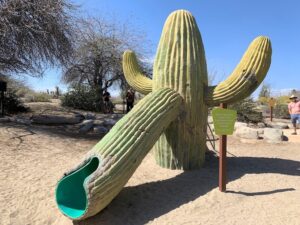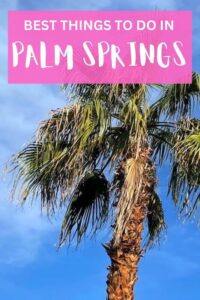 If you enjoyed this post, you may also enjoy these posts:
Disclaimer: We always strive for content accuracy. Since the time of publishing, travel-related information regarding pricing, schedules, and hours may have changed. Please look up such information directly from each vendor or institution for the most current information.