22 Things to See at the Olympic Peninsula (Full Guide!)
Last Updated on August 21, 2023 by
The Olympic Peninsula in Washington State has it all: rugged coastline, alpine meadows, moody rainforests, pristine lakes, and mountain vistas. It's also home to Olympic National Park, one of the most popular parks in the nation. I've been to the Olympic Peninsula more times than I can count, and it's one of my very favorite places to explore in Washington State. This guide will tell you everything you need to know about visiting the Olympic Peninsula so you can plan your next trip.
You can see all our posts on Washington State by clicking here!
Disclosure: This post may contain affiliate links. As an Amazon Associate, I may earn commissions from qualifying purchases from Amazon.com. These sales help to run this blog without any additional cost to you. See our policy page for details.
---
How to Get to the Olympic Peninsula
The Olympic Peninsula is located across the Hood Canal from Seattle and constitutes the far western portion of Washington State.
If you book a tour from Seattle to Olympic National Park, you won't have to worry about transportation. Plus, you'll have a guide to show you all the best places in Olympic National Park!
From the Seattle area, you can reach the Olympic Peninsula by taking the Bainbridge Island ferry, or you can drive south and wrap below the Puget Sound before driving up north again. 
Taking the ferry is an especially beautiful route to the peninsula. Whenever we board the ferry, we feel like we are truly embarking on an adventure. That being said, the ferry lines can sometimes be painfully long during the summer. Be sure to check the WSDOT page for the ferry schedule and estimated wait times. (Tip: Try to travel during off-peak times for a shorter wait!)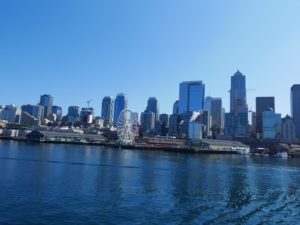 ---
 
What to Pack for a Trip to the Olympic Peninsula
Here's a few things we recommend that you take with you:
(Click on any of the images above to see current prices.)
---
Tips for Visiting the Olympic Peninsula
If you're planning on completing any hikes in the area, you can often find recent trip reports on the Washington Trails Association website for any particular hike you are interested in. (Scroll down to the bottom of the page to see the trip reports.)
If you plan on visiting the nearby Olympic National Park, you'll need to purchase an Olympic National Park Pass. We recommend that you purchase it online and print it out in advance. If you plan on visiting multiple national parks in the same year, you might want to look into purchasing an America the Beautiful annual parks pass.
While you're visiting the Olympic Peninsula, be sure to follow Leave No Trace principles. Pack out everything that you pack in. Do not litter. Stay on marked trails. Don't feed the wildlife. Following these guidelines will help to keep this area pristine. 
If you plan on hiking, download the hike map in advance using the All Trails app. That way you'll have access to a map even if you don't have cell service. It's also a good idea to download the National Park Services app. You can learn a lot about the park right from your phone!
When visiting the beaches along the Olympic Peninsula, look up the tide charts in advance. If you want to go tide pooling, you'll want to time your visit with low tide when the tide pools are exposed. During high tide, most of the pools will be completely covered. 
Stop by one of the park's many visitor centers if you are able. Park rangers will be able to give you up-to-date information and customized recommendations.
---
22 Things to See at the Olympic Peninsula
We created this map of all our recommended places for your convenience: 
1. Port Townsend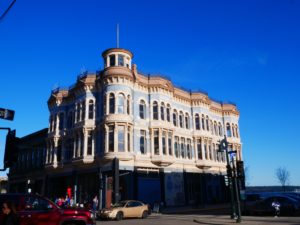 Port Townsend is a quaint city located on the eastern portion of the Olympic Peninsula. The town has a charming main street and is located right on the water. With Victorian-styled mansions, trendy restaurants, and lots of boutique shops, there's plenty to do and see. We recently spent a weekend in Port Townsend, and enjoyed plenty of beach strolls and delicious restaurants. It was the perfect weekend getaway!
2. Fort Worden State Park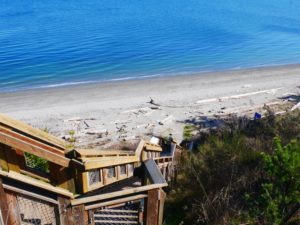 Fort Worden State Park is located right next to Port Townsend. There's lots of things to do at the park, like exploring an abandoned military fort, spending time at the beach, visiting a historic lighthouse, and hiking its many trails. Fort Worden, along with Fort Casey and Fort Flager, created the "Triangle of Fire" which protected the Strait of Juan de Fuca. The forts were created prior to the invention of airplanes, so the most significant military threat at the time was an invasion by sea. Thus, the three forts protected the ports at Bremerton and Seattle. You can learn much more about the fort's history when you visit the park.
3. Lavender Farms in Sequim
The town of Sequim is famous for its lavender farms. There are dozens of lavender fields and the best time to view them in bloom is in mid-July. If you can, time your visit with the annual Lavender Festival. 
4. Port Angeles
Port Angeles is a gateway city to the nearby Olympic National Park. With plenty of water views and access to tons of trails, it's an ideal place to stay when visiting the national park. The city is home to the Olympic National Park Visitor Center, and there's plenty of shops to explore downtown at the wharf.
5. Olympic Discovery Trail
The Olympic Discovery Trail is a mostly-paved trail that is 130 miles long. It begins in the town of Port Townsend and ends at the Pacific Ocean in the town of La Push. (It cuts right across the top of the Olympic Peninsula.) 
6. Marymere Falls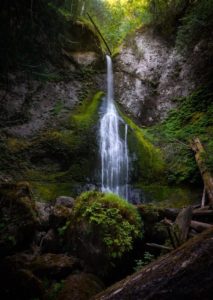 Marymere Falls is located about 20 miles from Port Angeles. This beautiful waterfall is easily accessible to most hikers. The trail is 1.8 miles roundtrip with 500 feet of elevation gain. (See full details at the Washington Trails Association description.) Note that there is no entrance fee or parking pass needed to access this trail. Dogs, however, are not allowed on the trail. The waterfall is 90 feet tall and there are two platforms to view it. After you complete the hike, you might also consider taking the half mile Moments in Time trail. 
7. Sol Duc Hot Springs
The Sol Duc Hot Springs are open seasonally. There are three mineral pools and one freshwater pool for soaking. After a long hike, there's nothing better than relaxing in the hot springs!
8. Sol Duc Falls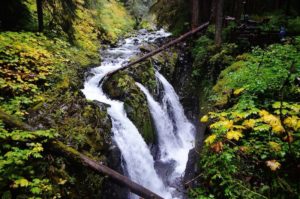 To reach Sol Duc Falls, you'll need to take a short hike (1.6 miles roundtrip) with a total elevation gain of 200 feet. As you walk to the falls, you'll pass through an old growth forest. These falls are impressive because they split into multiple channels, making for an impressive view.
9. Hurricane Ridge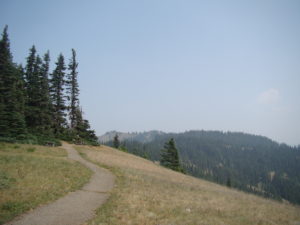 Hurricane Ridge is one of the best places to visit in Olympic National Park. Located high in the Olympic Mountains, views from the ridge extend all the way to Canada on a clear day. There are lots of beautiful trails in this area of the park, including the Cirque Rim Trail and Hurricane Hill.
10. Lake Crescent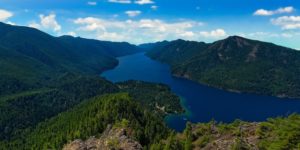 Lake Crescent is a pristine lake located in the foothills of the Olympic Mountains. There are lots of trails in the area, as well as water access during the warmer months. The Lake Crescent Lodge is located along its shores, which is a great place to stay during your trip. If you're up for a challenging hike, Mount Storm King is one of Washington's most epic hikes. 
11. Cape Flattery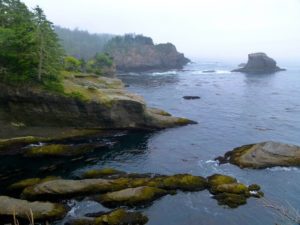 Cape Flattery is located on the northwestern tip of the Olympic Peninsula. It's also the northwestern most point of the contiguous United States. The trail to Cape Flattery is 1.5 miles roundtrip and requires a Makah Recreation Pass. 
12. Shi Shi Beach
Shi Shi Beach is one of Washington's most beautiful beaches. To reach it, you will need to hike 8 miles roundtrip. It's about 2 miles to reach the beach, and then it's about another 2.5 miles along the beach to reach the Point of Arches. You'll need to purchase a Makah Recreation Pass in advance of your visit. 
13. Hoh Rain Forest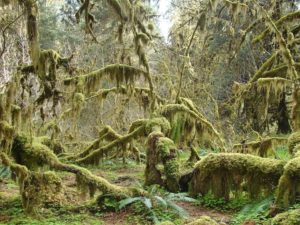 The Hoh Rain Forest is a large rainforest that is also a UNESCO World Heritage Site. The forest is covered in green mosses and lichens, and it receives over 140 inches of rainfall each year. The Hoh Rain Forest has a visitor center and campground, as well as several trails. We recommend completing the short but spectacular Hall of Mosses trail.
14. Forks
The city of Forks, Washington, is nestled within the Olympic Peninsula and is an ideal place to stop for groceries, gas, and lodging. The Timber Museum teaches visitors about the area's logging history. More recently, the Twilight book series was set in the city of Forks. Fans of the books will enjoy seeing many of the places mentioned in the books and movies.
15. Ruby Beach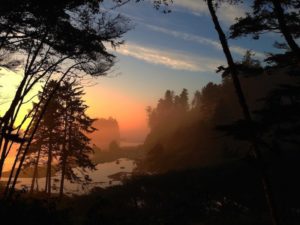 Ruby Beach is another one of our favorite beaches on the Olympic Peninsula. The beach has impressive sea stacks and lots of tide pools at low tide. The beach was named "Ruby" for the sometimes reddish color of the sand. The mineral almandite (a red crystal that resembles a garnet) can sometimes be found at the beach depending on wave actions.
16. Rialto Beach
Rialto Beach is another popular beach along the western side of the Olympic Peninsula. One unique feature at this beach is the famous Hole-in-the-Wall, which requires a 4 mile hike roundtrip. You'll need to time your visit with low tide if you want to hike along the beach. 
17. Big Cedar Tree in Kalaloch
The Big Cedar Tree is a massive cedar that is estimated to be over 1,000 years old. After a storm in 2014, part of the tree collapsed. It's very easy to stop by and see this tree, as the trail is only a few hundred feet.
18. Third Beach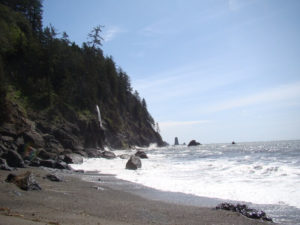 To reach Third Beach, you'll hike 1.3 miles through the coastal forest. The beach is a bit more secluded than the nearby Ruby Beach, partially because it requires a bit more effort to get there. At this beach, you'll see lots of sea stacks, as well as Strawberry Bay Falls tumbling into the ocean.
Planning a trip to Third Beach? See our full guide here.
19. Kalaloch Beach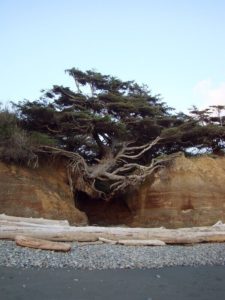 Our favorite thing about Kalaloch Beach is seeing the Tree of Life. This tree is somewhat of a miracle, because it continues to live even though its roots are almost fully exposed due to erosion. To reach the tree, just head to the Kalaloch Campground. The Kalaloch Lodge is also located along this beach, and is a beautiful place to stay or stop by for a bite to eat.
20. World's Largest Sitka Spruce
The World's Largest Sitka Spruce has a circumference of 58 feet, 11 inches. It's located near Lake Quinault. If you can stay overnight, you can book reservations at the rustic Quinault Lodge and spend a lot of time at the lake.
21. Lake Cushman
A beautiful place to visit is Lake Cushman. Skokomish Park at Lake Cushman is a top-rated campground. During the warmer months, you can kayak or paddle board using the park's rental equipment.
22. Ocean Shores
Ocean Shores is a popular beach getaway in Washington State. While much of the peninsula is remote, the town of Ocean Shores is a lot more populated. There's lots of things to do there, including horseback riding, kite flying, and playing at the local arcade. We recommend that you stay at the Quinault Beach Resort and Casino. 
---
Hotel Recommendations for the Olympic Peninsula
There are a lot of beautiful lodging options at the Olympic Peninsula. Whether you use one place as your home base, or whether you book several different hotels for a road trip, you are sure to love staying in this beautiful region. 
Here are a few recommendations based on location:
Port Angeles
Olympic Lodge: This rustic lodge has a wood-paneled lobby with floor-to-ceiling windows. The hotel has a heated outdoor pool and hot tub, as well as a wood-burning fireplace and seating area in the lobby.
Sea Cliff Gardens Bed and Breakfast: This Victorian-styled bed and breakfast has dramatic views of the coast. There are five guest suites with views of the water and gas fireplaces.
Red Lion Port Angeles Harbor: This hotel is located right on the water. Most of the rooms have views of the water.
(You can also click this link for a full list of lodging accommodations in Port Angeles.)
Forks
Misty Valley Inn: This inn has beautiful views of the Sol Duc meadows and an impressive breakfast menu.
Pacific Inn Motel: This motel even has Twilight-themed rooms.
(You can also click this link for a full list of lodging accommodations in Forks.)
Ocean Shores
(You can also click this link for a full list of lodging accommodations in Ocean Shores.)
---
Suggested Weekend Itineraries for the Olympic Peninsula
We've included a lot of things to see at the Olympic Peninsula. If you only have a weekend at the Olympic Peninsula, here's a couple of itineraries we recommend:
Itinerary 1: Northern Olympic Peninsula
Friday: Take the ferry to Port Angeles. We recommend staying at the Olympic Lodge. Walk along the pier, explore the wharf, and take a look at the shops. Have dinner at Downriggers on the Water. 
Saturday: Wake up early! Head to Hurricane Ridge and complete the Cirque Rim trail and the Hurricane Hill trail if you're up for it. Pack either a picnic lunch or eat at the visitor center. Next, head to Marymere Falls. Treat yourself to wine tasting at Harbinger Winery. Head back to Port Angeles and have dinner at the Next Door Gastropub. 
Sunday: Head to the Salt Creek Recreation Area. Pack a picnic and enjoy the beach, trails, and tide pooling. Have lunch in Port Angeles at Kokopelli Grill and then head home.
Itinerary 2: Western Olympic Peninsula
Friday: Drive to Kalaloch Beach and stay at the Kalaloch Lodge. Have dinner at the lodge. If the timing is right, watch the sunset over the ocean.
Saturday: Wake up early! Head to the Hoh Rain Forest and complete the Hall of Mosses loop. Stop by the Hard Rain Cafe on your way out for lunch. Then, drive to Ruby Beach. Enjoy exploring the beach, viewing the sea stacks, and looking through tide pools. (Check the tide charts in advance of your visit.) On your way back to the lodge, stop by the Kalaloch Campground to view the Tree of Life. Have dinner at the lodge and enjoy a beach walk.
Sunday: Wake up early and head to Third Beach. Complete the hike, enjoy the beach, then head home. 
---
Frequently Asked Questions About the Olympic Peninsula
How long does it take to drive around the Olympic Peninsula?
It will take you approximately 8-12 hours to drive around the Olympic Peninsula if you start in Port Townsend, head north to Port Angeles, and then drive around the peninsula counter-clockwise. This drive, should not be completed as a day trip, in our opinion. There are tons of beautiful sights to see along the way, so we recommend breaking this drive up over several days. The map below shows one potential route:
What should I not miss at Olympic National Park?
Some of the best things to see at Olympic National Park include the Hoh Rain Forest (which is also a UNESCO World Heritage Site), Ruby Beach, and Hurricane Ridge. By visiting each of these places, you will see a lush rainforest, the rugged coast, and mountain views.
How many days should I spend in Olympic National Park?
We recommend at least 3 to 5 days in Olympic National Park to truly get a sense of the park's different ecosystems. You'll want to spend at least one day in the rainforest, one day in the mountains, and one day at the beach. 
Is Olympic National Park worth visiting?
It's definitely worth visiting Olympic National Park. We have visited many national parks and Olympic National Park is truly one of our favorites. With rainforests, beaches, and mountain hikes, there is something for everyone. The park is home to the Hoh Rain Forest (which is a UNESCO World Heritage Site), some of the best beaches in the region, and Hurricane Ridge (which on a clear day has views all the way to Canada).
Are there beaches in Olympic National Park?
There are numerous beaches in Olympic National Park. There are saltwater beaches along the coast. (Some of our favorites include Ruby Beach and Third Beach.) There are also numerous freshwater lakes with beaches. (We recommend visiting Lake Crescent.)
---
Summary: Visiting the Olympic Peninsula
We hope this guide inspires you to visit the Olympic Peninsula! Whether you visit the rainforests, beaches, or mountains, you are sure to be amazed by the natural beauty of the region. I've enjoyed my many visits to the Olympic Peninsula, and I know I'll keep returning back!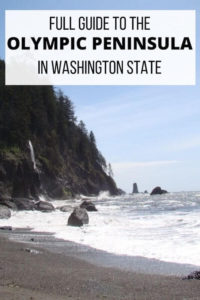 You might also be interested in the following posts:
Disclaimer: We always strive for content accuracy. Since the time of publishing, travel-related information regarding pricing, schedules, and hours may have changed. Please look up such information directly from each vendor or institution for the most current information.