Our Guide to the Best Restaurants in Seattle
Last Updated on August 21, 2023 by admin
Seattle is known for its fresh seafood and local ingredients. The city is full of award-winning restaurants, as well as some up-and-coming restaurants that are hidden gems. Although I've lived in Seattle for most of my life, I'm still just scratching the surface when it comes to the food scene here. In this post, I'm sharing my picks for some of the best restaurants in Seattle. I've organized this post into the best restaurants for brunch, lunch, and dinner. Enjoy!
You can see all our posts on Washington State by clicking here!
Disclosure: This post may contain affiliate links. As an Amazon Associate, I may earn commissions from qualifying purchases from Amazon.com. These sales help to run this blog without any additional cost to you. See our policy page for details.

---
Travel Tip: If you're planning a trip to Seattle, consider buying a Seattle CityPASS. You'll be able to save money if you plan on visiting multiple attractions. For instance, if you plan on visiting the Space Needle, Seattle Aquarium, Museum of Pop Culture, Woodland Park Zoo, Chihuly Garden and Glass, or Argosy Cruises Harbor Tour, we highly recommend that you look into purchasing the CityPASS. 
---
Map of the Best Restaurants in Seattle
The following list of restaurants is not ranked in a particular order. We created this map of the best restaurants in Seattle for your convenience:
---
21 Best Restaurants in Seattle
Best Breakfast and Brunch Spots in Seattle
1901 Western Avenue, Seattle,  WA  98101
Honest Biscuits is the place to go for breakfast sandwiches. Their biscuits are handmade each morning using locally-produced flour. They are light and fluffy on the inside. Their menu includes classics such as a Bacon, Egg, and Cheese Sandwich, but also items like the Mexican Breakfast Sandwich (made with chorizo). Honest Biscuits is owned by Art Stone, who has been devoted to replicating his grandmother's biscuit recipe while also adding his own spin. In addition to breakfast sandwiches, they also sell Biscuits and Gravy and Biscuit Sandwiches.
391 Terry Ave N, Seattle, WA 98109
 

 

View this post on Instagram

 
This is my favorite restaurant in Seattle for brunch. They currently have four locations in the Seattle area. Make a reservation in advance, because there is often a line out the door for this place! What I love about this restaurant is that they have a breakfast bar with toppings for their waffles, french toast, and pancake meals. Toppings include fruits, whipped cream, and organic maple syrup. I like to order the Bananas Foster French Toast and then hit up the toppings bar. Other notable breakfast options include the Apple Cinnamon Pancakes, the Oatmeal Cobbler French Toast, the Mole Verde Burrito, and the Seattle Benedict. 
2909-B E Madison St, Seattle, WA 98112
As the name implies, the Simply Soulful Cafe specializes in soul food. For brunch, they have served dishes like Chicken and Waffles, Shrimp and Grits, and Biscuits and Gravy. Simply Soulful Cafe is a black-owned business with its roots dating back to 1922. The cafe's menu pays homage to the owner's mother, Elizabeth Hammond, who was known for her sweet potato pie recipe.
6201 15th Ave NW, Seattle, WA 98107
 

 

View this post on Instagram

 
Watson's Counter is famed around Seattle for its Cereal French Toast. You have to try it at least once! They batter their homemade bread in crushed cereal. You can choose between either Frosted Flakes or Fruity Pebbles. It makes for a super-Instagrammable meal! They also serve dishes like eggs benedict, loco mocos, and chicken and waffles. 
809 5th Ave 16th Floor, Seattle, WA 98104
Charlotte Restaurant and Lounge is located in the Lotte Hotel Seattle. (See our post about best hotels in Seattle to learn more about this hotel!) The restaurant has sweeping views of the city and a contemporary feel. It's open for breakfast and dinner. The restaurant specializes in contemporary Pacific Northwest cuisine, but it's worth going just for the views!
5520 Rainier Ave S, Seattle, WA
The Flour Box is one of Seattle's premier donut shops. The head baker, Pamela Vuong, discovered her love of baking while she was a student at the University of Washington and went all-in on following her donut-creating dreams. In 2022, she was elected as a James Beard semifinalist for Outstanding Baker!
The Flour Box makes hand-filled brioche donuts, cookies, and cinnamon rolls. Every item is made from scratch using local and organic ingredients whenever possible. Pamela writes that everything is made from love, and it's more than evident. This shop has gained a cult following and many repeat customers. They often sell-out, so get there early! We recommend
following their Instagram account
because they typically give updates regarding how long the line is to purchase donuts. (Also, we wrote an entire post on the best donuts in Seattle. See our full list
here
!)
---
Best Lunch Spots in Seattle
Inside Rachel's Ginger Beer, 4626 26th Ave NE, Seattle, WA 98105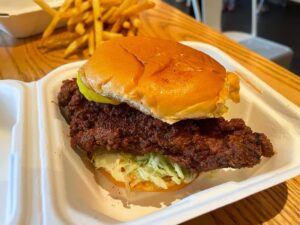 I'm starting this list off with Ma'Ono because you have to go there. This fried chicken joint is a counter tucked away within Rachel's Ginger Beer. They serve up one of the best fried chicken sandwiches we have ever had. (And just so you know how much we love it, my husband chose this spot for his birthday lunch.) Their fried chicken sandwich incorporates Hawaiian flavors. They use a King's Hawaiian bun with daikon pickles, kewpie mayo, and iceberg lettuce.
1401 Broadway, Seattle, WA 98122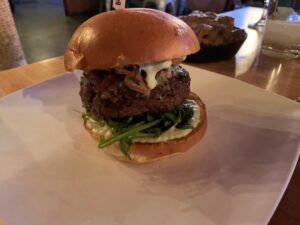 If you love burgers as much as we do, do yourself a favor and head to 8oz Burger & Co. They offer a variety of mouthwatering burgers named after local Seattle streets. For example, their The Union burger consists of an espresso-rubbed patty, arugula, fried shallots, candied bacon, gorgonzola, and peppercorn aioli. They have two locations in Seattle, so be sure to check them out. We went to 8oz Burger & Co. recently for a date night, and we will definitely be coming back. They made our list of best burgers ever! 
See our perfect weekend itinerary for Seattle here. We share what to see in 2.5 days!
6412 Latona Ave NE, Seattle, WA 98115
This is a restaurant with heart. Before we even talk about their homemade tamales, first we want to recognize that this restaurant donates a sizable percentage of their profits to local community organizations. In addition to all of that goodness, they make some amazing tamales! You can choose between a variety of flavors, including Chorizo & Cheese, Salsa Verde Chicken, and Sweet Pineapple.
1600 Post Alley, Seattle, WA 98101
When I used to work downtown, I would often meet my aunt for lunch at Cafe Campagne. This French bistro is located right next to Pike Place Market. (If you haven't checked out our Complete Guide to Pike Place Market, before to check it out to find out what to eat and drink while in the market!) At this cafe, you'll find traditional French dishes such as Quiche Lorraine, Les Croques, and Calamars à la Provençal.
12325 30th Ave NE, Seattle, WA 98125
 

 

View this post on Instagram

 
With multiple locations in the greater Seattle area, you are sure to find a Dick's near you. This burger joint is extremely popular with locals. (We actually just went there yesterday!) Dick's Drive-In has been a Seattle staple since 1954. This to-go service counter (no indoor dining) makes fresh cheeseburgers that are delicious and affordable. I spent many an evening in college visiting Dick's after a night out. If you're visiting Seattle for the first time, don't leave without trying Dick's.
4300 15th Ave NE, Seattle, WA 98105
 

 

View this post on Instagram

 
Off the Rez Cafe is Seattle's first native food truck and cafe. (See their website to find both locations!) They specialize in Blackfeet frybread recipes and Indian tacos. Try their BBQ Pulled Pork Indian Taco or the Sweet Frybread.
---
Best Dinner Spots in Seattle
5431 Ballard Ave NW, Seattle, WA 98107
 

 

View this post on Instagram

 
I first dined at La Carta de Oaxaca when I was in grad school. I quickly found out that they have the best mole sauce of any of the places I've tried around here. If you go, you have to try their Mole Negro Oaxaqueno (served with chicken or pork ribs). Pair that with homemade guacamole and one of their many tequila offerings, and you'll be in heaven. 
86 Pine St Suite #1, Seattle, WA 98101
Chef Shiro Kashiba created Seattle's first sushi bar in 1970. Chef Kashiba was trained by the famous Jiro Ono (from the documentary Jiro Dreams of Sushi). Chef Kashiba has been a three-time James Beard Award nominee for Outstanding Chef, and he was recently appointed as an official Goodwill Ambassador of Japanese Cuisine by the Government of Japan. If you love sushi, then you have to visit his signature restaurant: Sushi Kashiba. This restaurant is located right next to Pike Place Market, so you know the seafood is as fresh as it gets.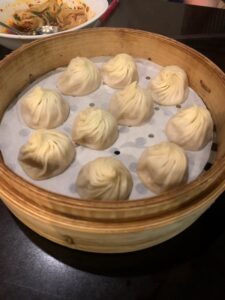 Another one of my favorite restaurants in Seattle is Din Tai Fung. I recently went there for the first time, after hearing about how amazing it was for quite some time. We started our dinner with the cucumber salad appetizer. The cucumbers was crunchy and crisp, and they were tossed into a slightly spicy oil dressing. The appetizer was addictive! (I've already gone back and ordered it again!) We also shared two orders of the Kurobuta Pork Xiao Long Bao. The dumplings were so tender and savory. (They make their dumplings from scratch in-house!) Finally, we shared an order of the Shrimp & Kurobuta Pork Spicy Wontons. The spice-level was perfect! Overall, we had the best time at Din Tai Fung, and I would highly recommend this restaurant to others. We went on a weeknight and there was a line for seating, so I recommend that you get there early if you can. It's a popular place!
3801 Stone Way N Suite A, Seattle, WA 98103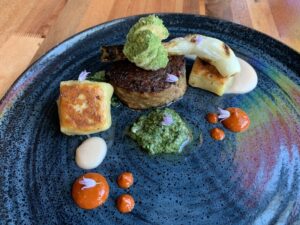 One of my absolute favorite restaurants in Seattle is Art of the Table. I've had the opportunity to dine there twice for special events, and the meals were truly outstanding. I also highly recommend purchasing the wine pairings, because they really added to the experience. Art of the Table serves a tasting menu that typically consists of 5 courses. This fancy restaurant is located off of Stone Way in the Fremont neighborhood. I think of this restaurant as a hidden gem, because of its unassuming location. 
2576 Aurora Ave N, Seattle, WA 98109
 

 

View this post on Instagram

 
4743 Ballard Ave NW, Seattle, WA 98107
One of the things that Seattle does best is prepare seafood. At The Walrus and the Carpenter, you'll enjoy the best seafood the city offers. If you like oysters, their oyster menu contains seven different varieties (baywater sweet, wildcat cove, eagle rock, olympic wild, eld inlet, indigo, and blue pool). This restaurant was recently rated as a James Beard Award semifinalist for Outstanding Restaurant. 
1040 E Union St, Seattle, WA 98122
Our list of Seattle's best dinner spots would not be complete without a steakhouse. At Bateau, you will choose a specialty dry aged steak cut and an assortment of delicious side dishes. You can also choose to have your steak topped with one of their signature butters (bone marrow, preserved lemon and brown butter, or anchovy). 
1519 14th Ave, Seattle, WA 98122
This restaurant is named after a supernatural monster in Japanese mythology that is a beast composed of many different parts. Because the menu at Nue is a fusion of many different cuisine styles, the name was a perfect fit for the restaurant. Currently on their menu you'll find offerings like the South African Bunny Show, the Chengdu Spicy Jumbo Chicken Wings, and the Danish Drømmekage Dream Cake. 
6049 Seaview Ave NW, Seattle, WA 98107
 

 

View this post on Instagram

 
Ray's Boathouse offers the best of Seattle's seafood along with unbeatable views of the Puget Sound and the Olympic Mountains. It's the perfect spot to go to for a special occasion. They have menu offerings such as Pan Seared Sea Scallops, Dungeness Crab Cakes, and Seared Pacific Northwest Halibut.
1900 W Nickerson St #103, Seattle, WA 98119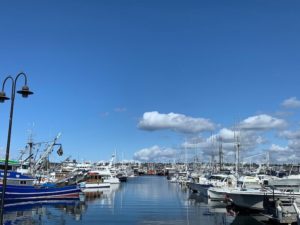 What I love most about Chinooks is the view! Many of the tables have views directly of the marina. Chinooks specializes in seafood, so you'll also get a good opportunity to try some of Seattle's famous seafood. I especially liked their clam chowder and fish tacos.

94 Pike St #32, Seattle, WA 98101
 

 

View this post on Instagram

 
Located in Pike Place Market, Matt's in the Market is one of Seattle's most famous restaurants. Their dinner menu features King Salmon, Prime NY Strip, and Seafood Stew. The restaurant also has a unique view of the Pike Place Market sign through its large glass windows. We highly recommend that you add this restaurant to your Seattle itinerary! 
1936 Harbor Ave SW, Seattle, WA 98126
Located in West Seattle, Salty's has excellent views of the Seattle skyline. I've been to Salty's on several occasions, and I've always enjoyed their seafood and views. After dinner, be sure to take a beach walk along Alki Beach. It's one of my favorite things to do in Seattle!
2601 W Marina Pl, Seattle, WA 98199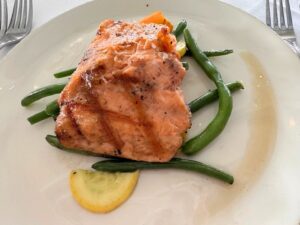 Palisade is located in Seattle's Magnolia neighborhood. The restaurant is located right in front of the Elliott Bay Marina, and it has excellent views of Elliott Bay, the Seattle skyline, and even the Space Needle. I've dined at Palisade numerous times, and I've always enjoyed their meals and their service. If you're looking for a nice seafood restaurant in Seattle, consider Palisade!
---
FAQs
What are some 5-star restaurants in Seattle?
If you're interested in fine dining while you're in Seattle, there are numerous 5-star restaurants to choose from. These include Canlis, Altura, Art of the Table, Palisade, the Capital Grille, Daniel's Broiler, and Ascend. I've personally dined at most of these restaurants. We particularly recommend Art of the Table if you are looking for an excellent prix-fixe menu. We also really enjoyed Ascend's steak and sushi!
What is the most famous restaurant in Seattle?
The most famous restaurant in Seattle, we would argue, is Canlis. As Seattle locals, there's no other restaurant that has the fame and prestige as Canlis. Many refer to it as the best restaurant in Seattle.
Where's the best place to eat Dungeness crab in Seattle?
There are several restaurants in Seattle that specialize in serving Dungeness crab. If you're down by the pier (located near Pike Place Market and the Great Wheel), we recommend that you go to Crab Pot. They serve crab boils and it's a really fun experience. Duke's Seafood and Ray's Boathouse are also great places to try crab.
Where's the best place to eat salmon in Seattle?
The best place to eat salmon in Seattle, in our opinion, is the Walrus and the Carpenter. Ray's Boathouse, Elliot's Oyster House, Seattle Fish Company, and Market Grille are also great options. 
Where's the best place to eat oysters in Seattle?
The best place to order oysters in Seattle is Elliot's Oyster House. They were voted as America's #1 Oyster House by Food and Wine. I've also had fresh oysters at Pike Place Market, and they were delicious! 
What are the best barcades in Seattle?
There are a lot of really cool barcades in Seattle. We've been to several over the years for adult birthday parties and date nights. Be sure to check out: Add-a-Ball in Fremont, Coindexters in Greenwood, and the Ice Box Arcade. Other bars in Seattle that have fun games are Rhein Haus (bocce ball), Flatstick Pub (miniature golf), and Full Tilt Ice Cream (pinball). 
---
Hotel Recommendations in Seattle
The Four Seasons Hotel Seattle is a 5-minute walk from Pike Place Market. It's a gorgeous 5-Star hotel located centrally in downtown Seattle. If you can afford it, this is our first recommendation. The hotel has an outdoor infinity pool with a view of the Seattle waterfront, lots of amenities, and is within walking distance of a lot of Seattle attractions.
The Seattle Marriott Waterfront has views of the water, as well as an indoor-outdoor pool. Every room has a view of the mountains and water.
For a full list of hotels in Seattle, click here.
We wrote an article about our favorite hotels in downtown Seattle. We go into greater detail about hotel locations, amenities, and more.
---
What to Pack for a Trip to Seattle
If you're traveling to Seattle, we recommend that you pack the following:
Packable rain jacket: As you might imagine, it rains quite a bit in Seattle! Make sure to have a rain jacket with you.
Portable charger: We always travel with a portable phone charger. That way, we don't run out of battery while we are on the go! (And we won't have to search for an outlet and be stationary.)
Comfortable walking shoes: When exploring Seattle, you'll be walking quite a bit. Make sure you have comfortable shoes! Brooks has been my favorite brand so far.
(Click on any of the above images for current pricing and shipping information.)
---
Summary: The Best Restaurants in Seattle
We hope that you enjoyed this post on the best restaurants in Seattle! We worked hard on researching the different shops and sharing with you the best of the best. If you're looking for a restaurant with a view of Seattle, we recommend Canlis, Ray's Boathouse, or Matt's in the Market. Enjoy!
If this article was helpful to you, please consider sharing it on your social media accounts to further help support our blog. Also, don't forget to join our newsletter. Thank you!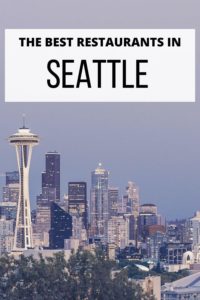 If you enjoyed this post, you may also be interested in the following posts:
Disclaimer: We always strive for content accuracy. Since the time of publishing, travel-related information regarding pricing, schedules, and hours may have changed. Please look up such information directly from each vendor or institution for the most current information.