11 Things Included in Our Stay at the Posthotel in Leavenworth (Full Guide!)
Last Updated on August 18, 2023 by admin
If you have been following our blog, you know that we recently stayed at the Posthotel in Leavenworth to celebrate our 5-year wedding anniversary. (You can read more about it here if you haven't seen our post!) After living near Seattle my whole life, I can say that the Posthotel is easily the most romantic getaway in Washington State. It's secluded, luxurious, and includes everything you need to feel rejuvenated. The Posthotel is also known for being an expensive place to stay. However, included in our nightly rate was at least 11 items and activities that were completely complimentary. We share all of them below!
You can see all our posts on Washington State by clicking here!
Disclosure: This post was not sponsored by the Posthotel. This post may contain affiliate links. As an Amazon Associate, I may earn commissions from qualifying purchases from Amazon.com. These sales help to run this blog without any additional cost to you. See our policy page for details.
---
 
Key Information About the Posthotel
The Posthotel is located in Leavenworth, Washington, nestled in the Cascade Mountain range. The town of Leavenworth itself is very quaint and resembles a Bavarian village in the Alps. The Posthotel is no exception. As soon as you enter the property, it feels as if you have been instantly transported to Europe. 
One important thing to note is that the hotel is for adults only, so you must be 18+ to stay on the property. 
The Posthotel was built alongside the Wenatchee River, and all of the rooms have a spectacular view of either the river or mountains. The best part about the hotel, though, is that it has an entire floor dedicated to hydrotherapy (which means lots of pools, hot tubs, saunas, and steam rooms). 
---
Cost of Staying at the Posthotel
It is pretty expensive to stay at the Posthotel. We knew we wanted to splurge a little on our anniversary trip, so we were okay spending a bit more for a weekend getaway. What we didn't know, though, was that there were so many complimentary things in included in the nightly room rate. (Which helps to make the price seem even more reasonable.) The nightly room rates vary by season and room type, but to give some context, we paid $585 for a weekend night and $515 for a weeknight. 
---
11 Things Included in Your Room Price at the Posthotel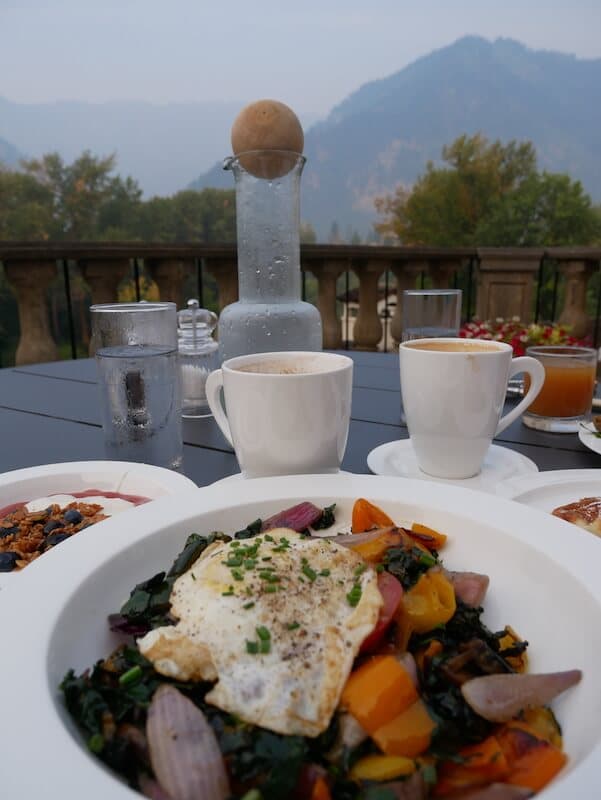 1. Breakfast at the Posthotel
Each morning, you can decide if you want to have breakfast out on the terrace, inside their beautiful dining room, or in your hotel room.
Before we even ordered our meals, we had coffee and scones brought out to us while we decided what we wanted to order.
The breakfast entrees were upscale versions of omelets, eggs and sausage, waffles, and yogurt parfaits. We were in heaven!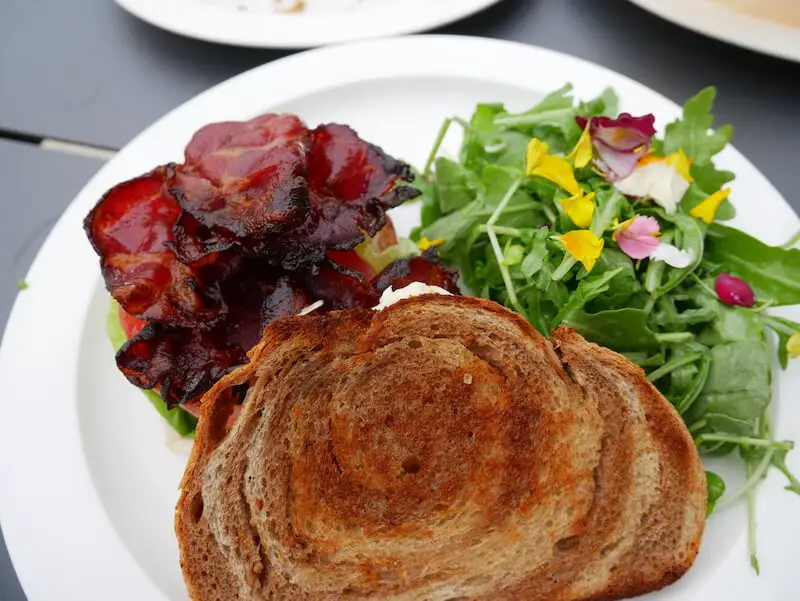 2. Lunch at the Posthotel
Lunch is also included in the nightly room rate, which made our stay much more affordable than we originally envisioned.
Our server let us know that we could order more than one dish. (Plus their daily soup!) My favorite entree was the Posthotel BLT, which contained marble rye bread, local Buckwood bacon, butter lettuce, heirloom tomatoes, an herb dijon mascarpone spread, and a side of dressed greens.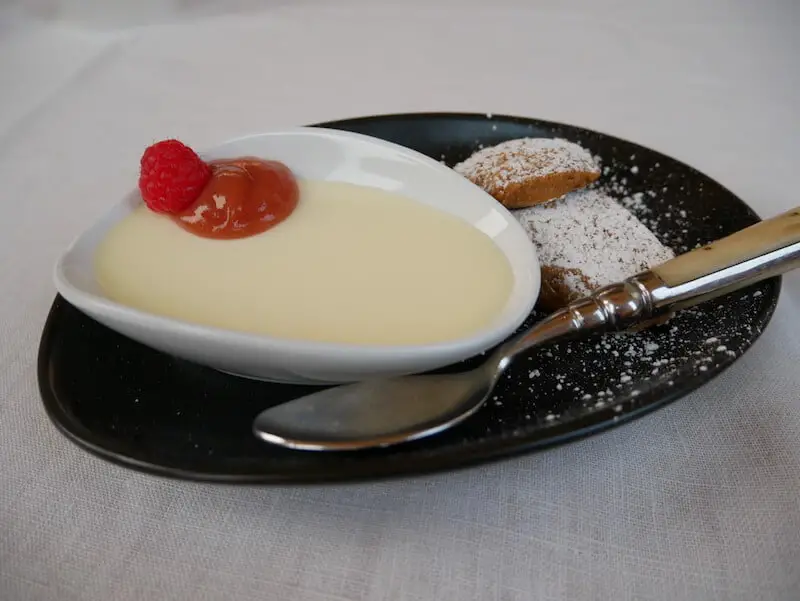 3. Evening Dessert at the Posthotel
After you enjoy a dinner off property, you can return to the hotel for complimentary dessert (served 7pm-9pm). The first night we stayed at the Posthotel, the dessert choice was a chocolate mousse with whipped cream and raspberries. The second night, it was a Swedish cream with Russian teacakes.
You have the option of taking dessert up to your room. We enjoyed sitting on our private balcony and having dessert.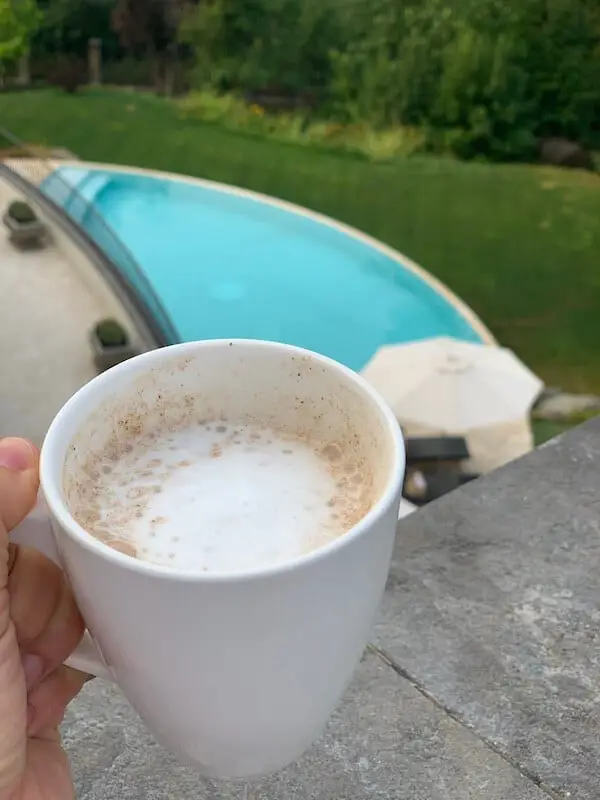 4. Coffee, Tea, & Infused Water
You can also enjoy coffee, tea, or infused water 24/7 during your stay. The refreshment table is located in the front lobby.
We recommend grabbing a cup of coffee and walking out to the terrace. (Weather permitting.)
The infused waters were also refreshing. They rotated between having options such as cucumber mint or fresh citrus.
There's no better way to start your day!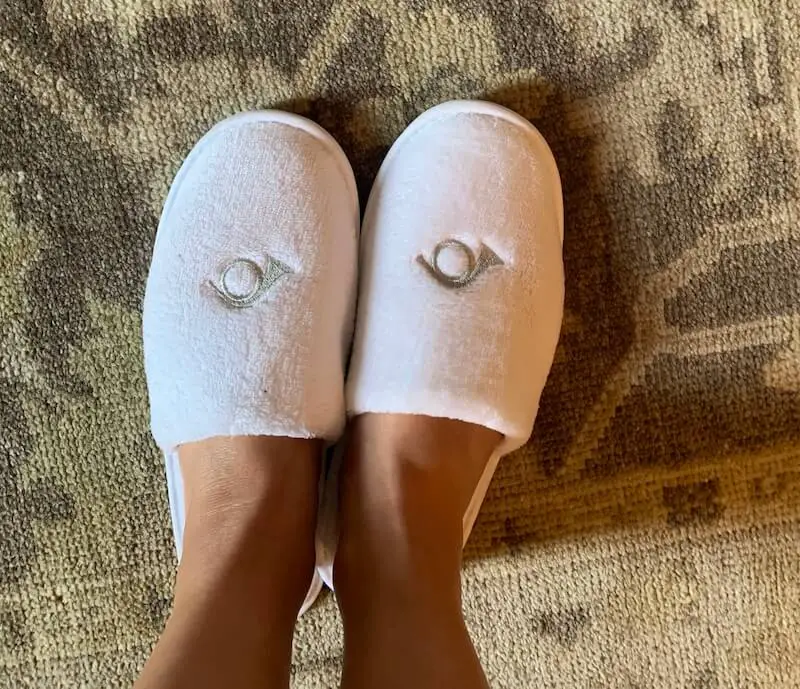 5. Slippers
One of the things we love most about the Posthotel is that everyone walks around in plush bathrobes and slippers. But did you know that you can take the slippers home with you? 
Nothing like having a little bit of luxury once you return home!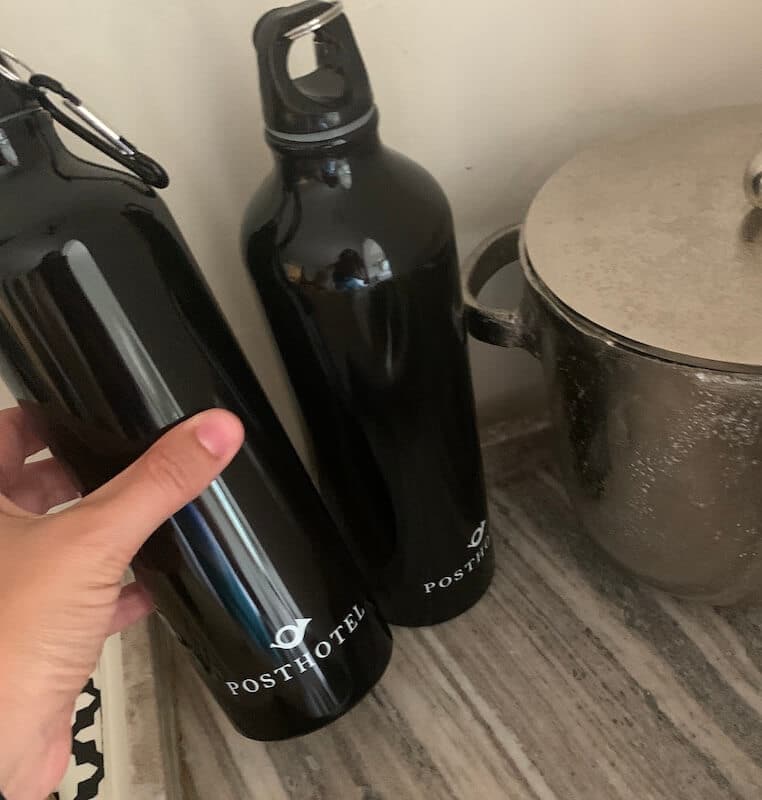 6. Steel Water Bottles
When you're walking around the pools all day, it's nice to have your own water bottle.
We were excited to find two water bottles waiting for us when we entered our room.
Throughout our stay, we would fill them up with the infused spa water and take them with us to the pool and spa area.
After spending lots of time in the sauna, we were appreciative to have lots of cool water waiting for us.
And since we could take them home, they made for a nice souvenir of our getaway.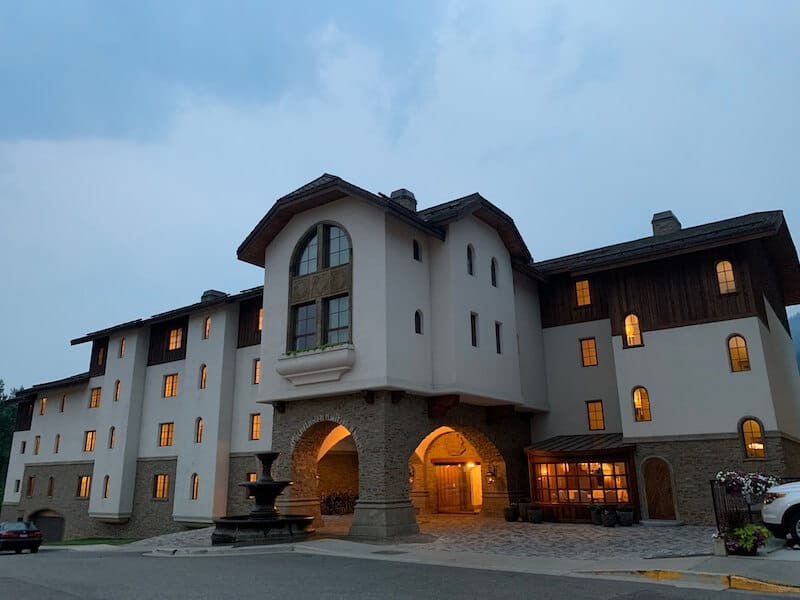 7. Complimentary Parking
If you've been to Leavenworth, you know that it can be difficult to find parking in town. We were grateful that the Posthotel had a private underground garage and that the parking was included in our hotel stay.
Because we were within walking distance to town, we really didn't need our car all weekend! We only had a 2-minute walk to Front Street, which is where all of the gift shops, bars, and restaurants are located.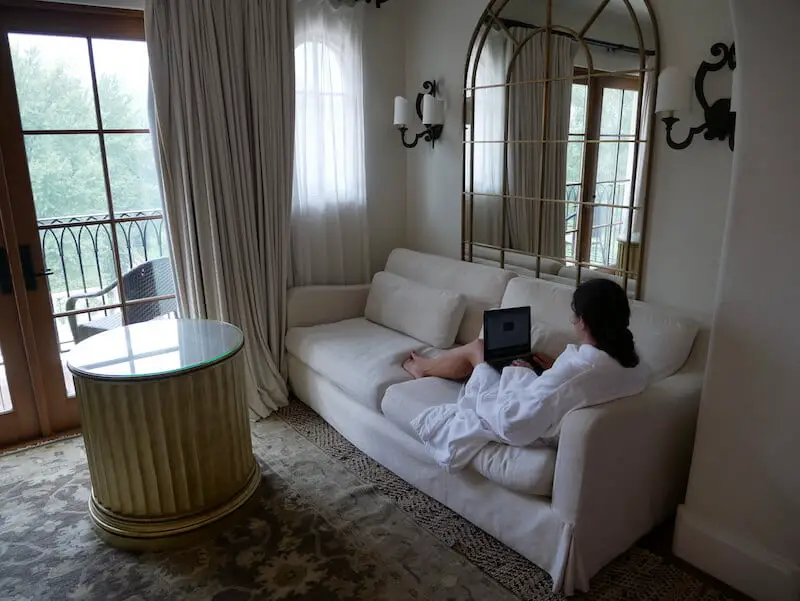 8. Free WiFi
This one isn't as exciting, but it is such a necessity to have good WiFi while traveling.
We had to do *a little* bit of work, so we were able to knock it out quickly while relaxing in our room.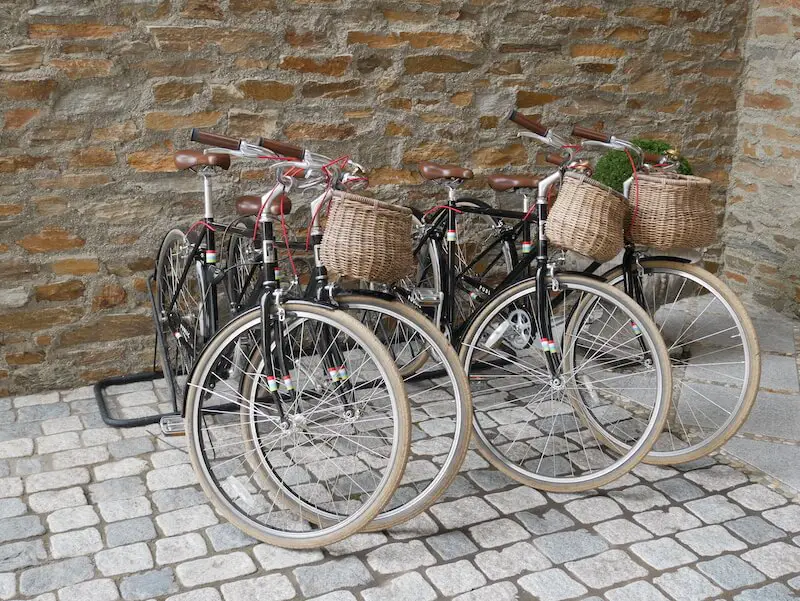 9. Equipment Rentals
We were delighted to find out that equipment rentals were included in our stay!
Because we visited during the summer, they had bicycle rentals available. We got to ride these cute bikes around town. 
We spent one morning biking down to the adjacent Waterfront Park, across the bridge, and along the trails of Blackbird Island. There were a lot of places to stop along the way and enjoy the river right next to us.
During the winter, snowshoes and cross-country skis are available.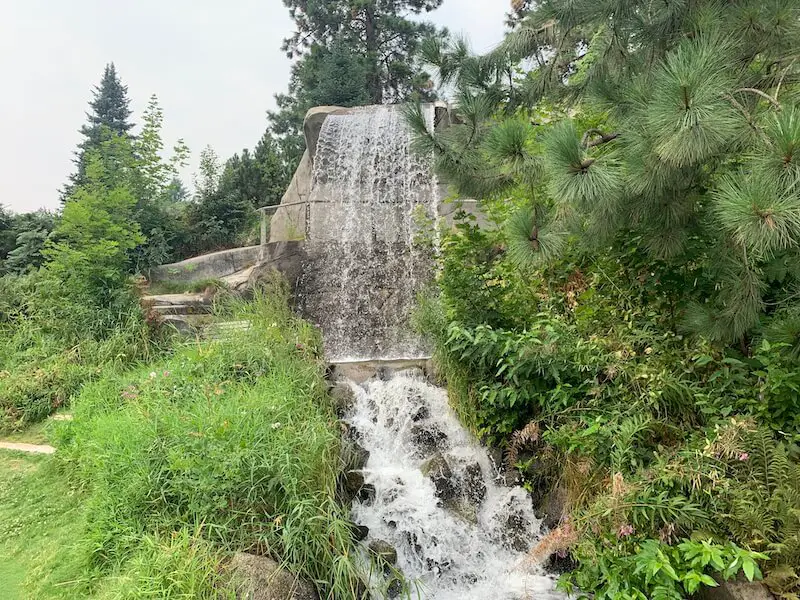 10. Putt-Putt Golf
Our stay also included complimentary putt-putt at Enzian's professionally designed 18 hole course. It was only a five minute walk away.
We just had to let the front desk know that we wanted to play golf, and they provided us with a golf club and ball.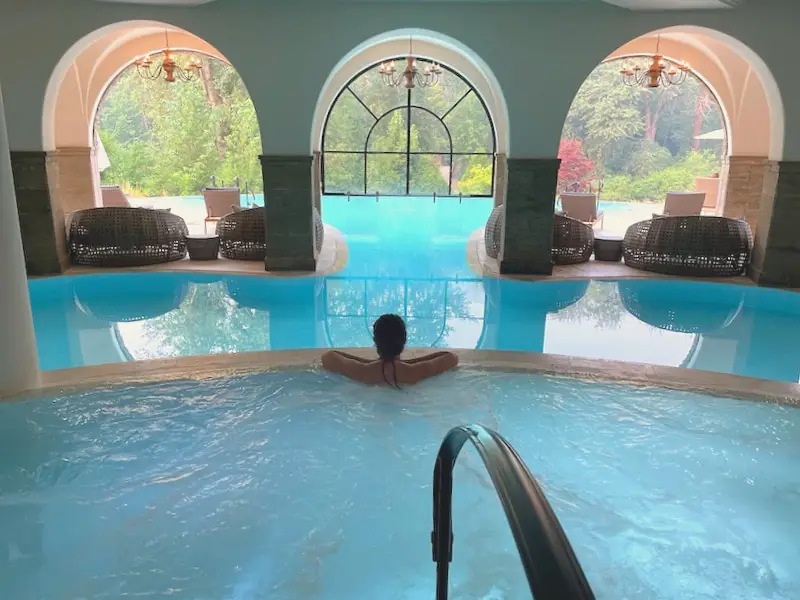 11. Pool & Wellness Center
We saved the best for last.
The Posthotel has an entire floor dedicated to hydrotherapy. They have an indoor/outdoor pool, indoor hot tub, outdoor hot tub, and seven sauna and steam rooms. Several of the steam rooms also have aromatherapies, such as eucalyptus or lavender. There's also two cold plunge pools, as well as reflexology pools for your feet. 
You could spend all day at the Pool and Wellness Center. Bring your robe, slippers, water, and you are set!
What to Bring
With so much included in your stay, there's not a lot you need to bring!
We recommend that you of course bring your swimsuit. 
If you want to treat yourself further, you can also bring these glittery gold eye masks.
If you'll be at the pool all day, you might want to bring a good book.
Whenever we travel, we also like to bring a portable charger so we never run out cell phone battery.
Ready to book your stay? Click on this link to make a reservation!
---
Summary: What We Loved About the Posthotel
Although the Posthotel is undoubtedly an expensive place to stay, there's a lot that's included in your stay! This helped to make the trip more reasonable for us, since the only thing we needed to pay for was dinner each night.
The Posthotel is also located close by to a number of activities. Whether you spend all day at the Pool and Wellness Center or venture into town, you will have a getaway to remember!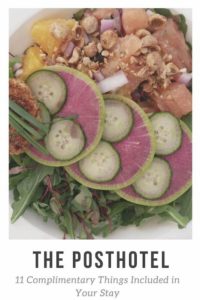 You may also be interested in the following posts:
Disclaimer: We always strive for content accuracy. Since the time of publishing, travel-related information regarding pricing, schedules, and hours may have changed. Please look up such information directly from each vendor or institution for the most current information.